The Alpha Men App, download 'm nu!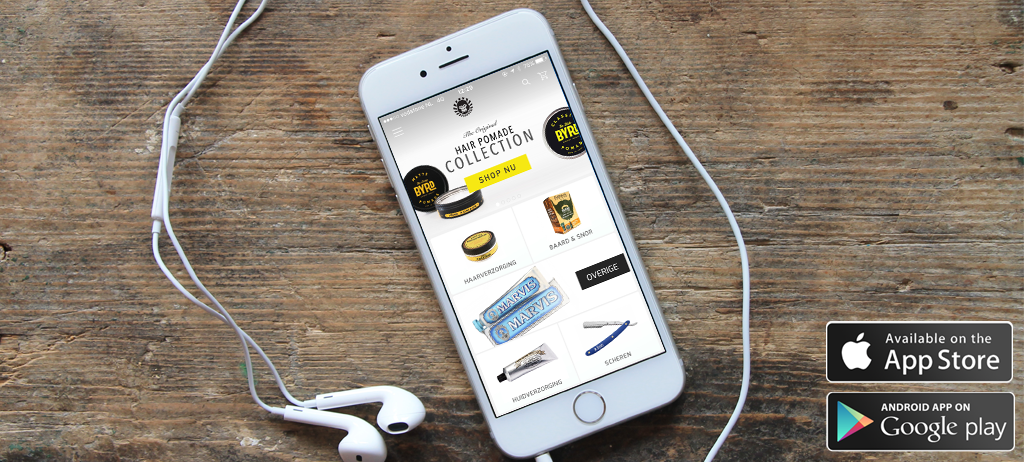 Sneller & Makkelijker
Niemand houdt ervan om zonder Pomade of Baardolie te zitten, daar wil je gewoon altijd voldoende van thuis hebben. Ook het bestellen van deze producten moet gewoon snel en makkelijk gaan, als het even kan al zittende tijdens een grote boodschap. Wij begrijpen dat, daarom hebben we onze eigen App ontwikkeld. Download deze app op je smartphone of tablet en je hebt je favoriete producten binnen een paar keer klikken en swipen besteld! De App biedt een aantal grote voordelen t.o.v. de mobiele site:
- Je blijft ingelogd, dus nooit meer opnieuw jouw gegevens invullen
- Maakt direct contact met jouw Bankieren-app, dus geen identifier of reader meer nodig
- De producten zijn beter vindbaar als op de mobiele site
- Jouw favoriete producten altijd binnen handbereik
Account
De App biedt je nu ook de mogelijkheid om een account aan te maken. Hiermee kun je makkelijker bestellen, deze onthoudt je adresgegevens en heb je toegang tot al jouw vorige bestellingen en kun je deze met 1 druk op de knop opnieuw bestellen. Een account aanmaken gaat super gemakkelijk:
1. Ga naar de App en druk onderaan op 'Account'
2. Kies voor 'Wachtwoord vergeten'
3. Vul hier jouw e-mailadres in, met welke je bij ons besteld.
4. Wij sturen je een persoonlijk wachtwoord op dit e-mailadres. Je account is nu aangemaakt en je bij ons bekende adresgegevens en bestelhistorie is nu toegevoegd aan dit account
Easy!
Heb je nog nooit bij ons besteld? Loop dan het normale afrekenenproces door tijdens het bestellen van je eerste order en jouw account wordt automatisch aan het eind van dit proces aangemaakt.